Performers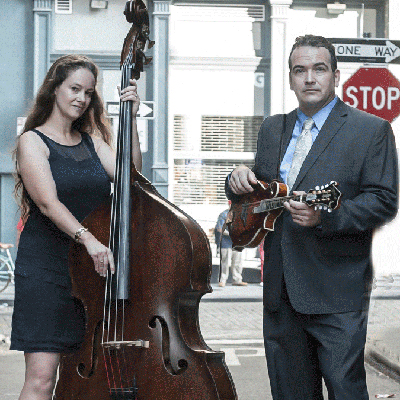 Moonshine Falls
Moonshine Falls, a band that bridges the gap between Traditional Bluegrass and the New Blue movement was formed in New York City, in 2013 by Mary Noecker and award-winning song writer Dave McKeon. Drawing from the canon of bluegrass standards, as well as writing songs that fit seamlessly with those of yesterday, the members of Moonshine Falls create a sound that is steeped in tradition without drowning in it. Rounding out the band is Cesar Moreno on mandolin and vocals as well as Mike Mulhollan on banjo.
Dave McKeon began playing mandolin by accompanying his father, a banjo player, at 4 years of age in the hamlet of Poplar Ridge, New York. McKeon's writing is heavily influenced by his life in this small farm town. His musical skill is not only evident in his playing and songwriting but also in his craftsmanship as a luthier. Dave is also committed to sharing the genre and for the past five years has been running a weekly bluegrass jam in the New York City introducing new pickers to the genre.
His original songs have earned critical acclaim including being awarded first prize in the Podunk song writing contest in 2016. Before that his song Sweet Annie Mae had already gotten praise by No Depression, Journal of Roots Music describing it as seamless with traditional bluegrass songs with the story of "a joyful celebration of a fiancee who says 'yes'". "With her driving mandolin and banjo tracks listeners are immediately uplifted into a buoyant bluegrass frame of mind that lasts until the last note". In his review of Moonshine Falls' album, Weeds in the Ballast, Mark Hudson of the Hudson Valley Bluegrass Association describes it as having a "bluegrass swing and a joyful lilt" and goes further to complement Dave's song writing ability stating the song shows "real songwriting talent accompanied by true musicianship".
The band has performed in Germany and Netherlands as well as several Bluegrass Festivals including Joe Val, the Wilmington Winter Bluegrass Festival, the Long Island Bluegrass Festival, the Pocono Mountain Bluegrass Festival, the Podunk Bluegrass Festival and the bi-annual Wrench Wranch Festivals. In New York City they have been regular performers for special events at the New York Botanical Gardens.