Performers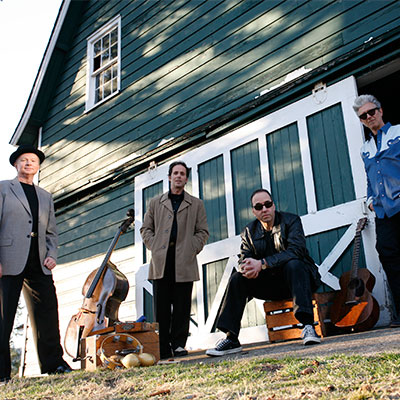 Finn & The Sharks
Finn and the Sharks were originally based out of Nyack in the early 1979 where they held court at The Office on Main Street where their regularly sold out shows were a weekend ritual for area rockers. Playing up and down the east coast including regular shows at NYC hotspots such as The Lone Star Cafe, the Bottom Line, CBGBs and the Peppermint Lounge they were a constant presence in the NYC underground music scene as part of the neo-rockabilly revival. Their first video, Innercity Rockabilly, debuted on MTV as well as the fledgling Showtime network and their first single, The Wheels Start Turnin' on John Hammond's HME label was featured on American Bandstand shortly before the band broke up in 1983.
The band members, individually and collectively, are longtime music industry journeymen having played, written, recorded and shared the stage with a long list of artists including Bo Diddley, Carl Perkins, BB King, Pete Seeger, John Lee Hooker, Dan Penn, Spooner Oldham, Lonnie Mack, Sam and Dave, Howlin' Wolf and many more too numerous to mention. Their songs have also appeared in movies and on top rated television shows worldwide.
Today the reunited Finn and the Sharks have released four CDs in the last 12 years that include both new recordings and previously unreleased material that was recorded in their early years. Their live shows are legendary for being high energy, heart pumping and roof shaking affairs leaving audiences breathless yet begging for more. They still rock as hard today. They are not to be missed!
Finn & the Sharks are:
James Finnen (lead vocals, standup bass, guitar and baritone sax)
Steven "Muddy" Roues (double bass, acoustic guitar, harmonica and vocals)
Billy Roues (lead guitar and vocals)
Ed "The Hammerhead" Steinberg (drums and vocals)