Performers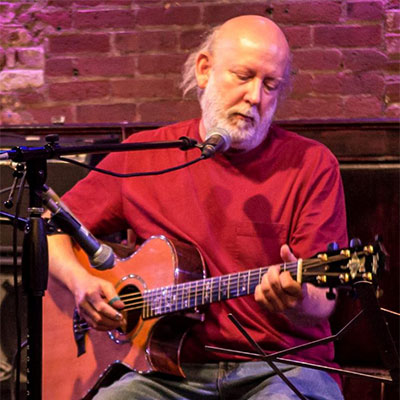 Rick Ilowite
Rick Ilowite is widely known as one of the premier fingerstyle guitarists on the scene today, described by one reviewer as "traditional, without puritanical blinders." His repertoire contains large quantities of the blues, ragtime, and gospel music of such legends as Blind Blake and the Rev. Gary Davis - music that Rick performs with respect and authenticity, while adding in his own personal flavors.
Rickís performances are not pre-canned reproductions of re-cordings, but unique musical events. Spontaneity and improvisation are big reasons for this. "You don't get to the spirit of this music by duplicating some original version note-for-note - it lies in playing the way you feel," says Rick, "so I donít make a set list and never play a song the same way twice. The next tune is always going to be the one that just feels right to me, or that I sense the audience wants to hear." Mixing in elements of folk, bluegrass, rock, jazz, and his own songs, Rick jumps from foot stomping rags, to soulful ballads, to driving blues.
Having studied under renowned guitarist Jorma Kaukonen (founder of Jefferson Airplane and Hot Tuna), Rick and Jorma were often seen in concert together, and Rick also performs occasionally with Danny Kalb, founder of the seminal band The Blues Project. Rick has also shared the stage with many other notable performers, such as Dave Van Ronk, David Bromberg, Rick Danko, Taj Mahal, Dr. John, Guy Davis, Tony Trischka, and With a wry sense of humor, Rick is a relaxed and engaging performer who quickly establishes a rapport with the audience. His CD This Way/That Way was produced by Jorma Kaukonen (who also appears on the CD, as Rickís latest project is as the lead guitarist of Reverend Jefferson, an electric band that pays respectful and authentic tribute to the music of Jefferson Airplane and Hot Tuna.
"A fluent, undeniably exciting fingerpicking blues guitarist."
"An extremely proficient guitarist and a fine vocalist."
"His renditions are genuine and soulful and his picking expertise top-notch."
-Stephanie Ledgin, publisher of "The Traditional MusicLine"
"An excellent guitar player, and fine singer."
"Rick Ilowite further heated up an already warm August evening."
-Outpost Year in Review
"Hurdy Gurdy does not often host bluesy-folk performers, but the audience response was so positive that we hope to."
-Hurdy Gurdy Coffeehouse newsletter
"An exceptionally talented and entertaining performer."