Performers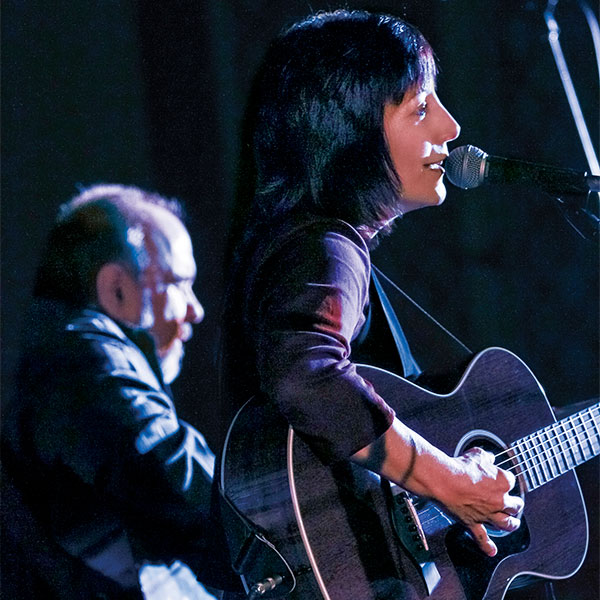 Loretta Hagen
Reviewers describe award winning singer-songwriter Loretta Hagen as 'heart driven, soul filling, Folk Americana.' Her rich alto voice and strong song writing skills have led her to win many awards, including a JAM Awards' (Jersey Acoustic Music Awards) "Top Female Songwriter of the Year," JAM nomination for "Album of the Year," Billboard and ASCAP wins, winner of the NJ Folk Festival Songwriter Competition and designation as a CT Folk Festival finalist.
"This effort [Mud and Stone] is first class, top tier. Loretta Hagen is a true contender as an artist to reckon with." John Apice - No Depression - Loretta Hagen "Mud and Stone"
Hagen's third CD, "Mud and Stone," features uplifting folk ballads, up-tempo country swing, and cool, bluesy grooves. "Mud and Stone" debuted at #10 on Folk DJ Charts, consistently #1 on the Roots Music Report for NJ, #5 Top 50 Folk Albums RMR, and continues to receive airplay throughout the US, Canada and Europe. She has performed at premiere venues across the Northeast and Nashville, sharing the stage with Pete Seeger, Roger McGuinn, Sloan Wainwright, Steve Forbert, Richie Havens, Kim Richey and Marshall Crenshaw among many others.
"With her smart, insightful lyrics, and catchy melodies Loretta Hagen certainly knows her way around a song. Plus judging by my audience's reaction at her recent appearance at Concerts at the Crossing, she's got a knack for connecting with a live audience as well. My only regret is that it took me so long to book her." - Scott Cullen, Concerts at the Crossing, Titusville, NJ
Following her critically-acclaimed CD "Something More," co-produced by Pat McInerney (Nanci Griffith), Hagen released "Sundown Till Dawn," a CD that garnered rave reviews and radio play across the country. Sundown Till Dawn is extremely personal, with the title track written about her mother, since passed on, who suffered with Alzheimer's disease. The emotionally charged ballad is included on the soundtrack of the film "10 Mountains 10 Years."
Loretta is back in the studio working on a release slated for 2016. Loretta performs primarily with her trio consisting of husband/guitarist Gary Hagen and djembe players Linda Lambiase or Curtis Kretz. www.lorettahagen.com