Performers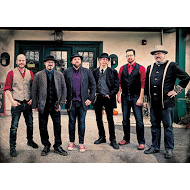 Scott Wolfson & Other Heroes
Scott Wolfson and Other Heroes are celebrating their fifth year as New Jersey's indie folk powerhouse. From beginnings in 2011, they have launched into success both on the air and on the ground. Their debut album, Life On Fire, reached #8 on the Roots Music chart and charted on Folk DJ's list of most played 2014 albums. 2016's Welcoming the Flood gathered rave reviews and top-charting airplay, and the band continues to expand its touring range. Dubbed "wizards,""musical scamps" and "the future of folk/rock," they deftly adapt their big, catchy, complex sound from festival stages to listening rooms. They are 2016 Falcon Ridge Folk Festival "Most Wanted" Artists, NERFA Formal Showcase Artists and have appeared onstage at the Philadelphia Folk Festival and the Black Potatoe Music Festival.
Collaboration is a delightful highlight of the Other Heroes experience. Lucky audiences have caught them hatching musical mischief on stage with their friends including The Kennedys, The Levins, Bobtown, and fellow FR "Most Wanted" artists Gina Forsyth and Annika Bennett. The band loves to swap songs and riffs with fellow players, and it shows.
With their infectious love of music, lyrical imagery, and Scott's unconquerable voice soaring above the rich counterpoint laid down by Kirk, Matt, Chris, Mike, and Skyler, Scott Wolfson and Other Heroes set toes tapping and imaginations humming everywhere they go.
"This band doesn't hesitate to ignite like a match on their fiery second collection, Welcoming The Flood. Listen to these dudes... these people are magicians... wizards..."
- John Apice, No Depression
"Scott Wolfson & Other Heroes is a talent-laden band. They're equally comfortable going electric or acoustic, and Welcoming the Flood is full of well-crafted songs that reveal new insights with repeated listening."
- John Platt, WFUV
"...Scott Wolfson and Other Heroes, a remarkable band from the folk Mecca of Jersey City. Their inspiring set, the last of the afternoon, had everyone on their feet singing and dancing in a spontaneous celebration..."
- Ron Olesko's Folk Music Note Book, Sing Out!